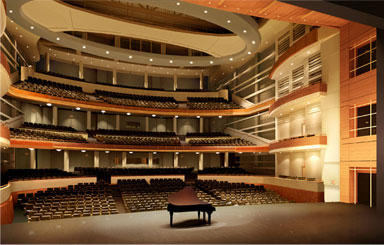 Ballet Austin * Bass Concert Hall * Austin Symphony * The Long Center
Ballet Austin is classically innovative. Through excellence and faithful stewardship, they create, nurture and share the joy of dance.
University of Texas Performing Arts Center has evolved into one of the largest and most extraordinary university arts presenters in the country. Powered by a commitment to educate, enlighten and entertain, the PAC has helped establish UT and Austin as a venue for international culture and performing arts.
The Long Center for the Performing Arts will provide a state-of-the-art venue for a broad array of regional performing arts groups, Texas musicians and a permanent home to the Austin Symphony Orchestra, Austin Lyric Opera and Ballet Austin. Underscoring the Long Center's mission to make the arts accessible to everyone, the facility also includes the AT&T Foundation Education Rooms for community arts education programs, workshops and meetings.
The Austin Symphony Orchestra Society, Inc. is to enhance the cultural quality of life for the adults and young people of Austin and Central Texas by providing excellence in music performance and educational programming. Founded in 1911, the Austin Symphony Orchestra is Austin's oldest performing arts group. The ASO offers a complete season of musical and educational programming