Breakaway Park fly-in homes for sale
Breakaway Park Fly-In Community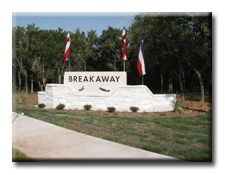 Having grown up the son of an aviator here in Austin, I recognize the fun, exhileration, and convenience of flying. My father started taking me up in his plane back in the 1960's, here outside of Austin, in an airport then known as "Tim's Airpark", which DELL now sits on. He retired and then moved to Spruce Creek fly-in in Port Orange, FL.
Breakaway Park is a really nice fly-in community located in Cedar Park and North Austin, and is conveniently located near malls, hospitals, shopping, and restaraunts. It has app. 1 acre lots, some larger, some of the newer lots are smaller, with an abundance of large oak trees in a country type setting. Live right next to the runway and build what I call a 'hangar home", where you can taxi right up to your home. Not all of the homeowners are pilots, however.
Shoppers will love being so close to great shopping venues such as "Lakeline Mall". "Wolf Ranch" in Georgetown, IKEA, "Round Rock Outlet Mall", "The Domain" and the "Arboretum" in north Austin.
This would be a great neighborhood for you if you are an area director, on a medical staff or doctor where you need quick access to your private plane. Cedar Park Regional Center is one of Cedar Park's newer employers, and St. David's Round Rock Medical Center is also nearby. Other nearby employers include Freescale Semiconductor, DELL Computers, and Scott and White hospital Round Rock.
Breakaway Park homes are higher end custom luxury homes, and homes which I am accustomed to dealing with. I am very familiar with the area, am certified in Luxury Homes Marketing (CLHMS), and am also a Certified Negotiations Expert (CNE), as well as a Real Estate broker. I also specialize in this price range and these features which your homes have. I have also been selling and marketing homes in the Cedar Park Texas area for 22 years.
Homes for sale in Breakaway Park fly-in typically run from the low $400's-$1,900,000.
Students attend these Leander ISD schools:
Ronald Reagan elementary, Artie Henry middle, and Vista Ridge high school.